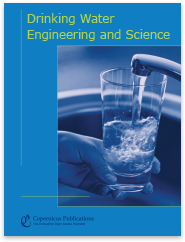 Editors-in-chief: Luuk Rietveld & Jan Peter van der Hoek
Executive editors: Monique Bekkenutte, Bhekie Mamba, Atul Mittal, Ran Shang & Chang-Ping Yu
Drinking Water Engineering and Science (DWES) aims to be the leading scientific open-access journal for the publication of original research in drinking water treatment. The focus is on fundamental and applied research in water sources, substances, drinking water treatment processes, distribution systems, and residual management. DWES serves scientists from universities and research institutes and engineers from water supply companies and engineering consulting firms.
Closure of DWES: due to a decreasing amount of submissions and activities around DWES, Copernicus Publications does no longer see a demand for this specialized journal in the field of drinking water engineering and science. We therefore decided to close the manuscript registration on 31 December 2021. All manuscripts submitted until then will undergo peer review and possible article publication in 2022. By 31 October 2022, the journal will also close its review system. However, the DWES library and all its articles and materials will remain online for an unlimited period to preserve the DWES publication record. We are very grateful to all authors, reviewers, editors, and the community of readers for their contributions over the past 12 years. It has been a great pleasure for us to collaborate with you.
News
28 Jun 2022
Release of journal metrics 2021
The journal metrics 2021 were released and the current numbers are available from the journal metrics overview.


21 Dec 2021
Season's greetings from Copernicus and review deadline extensions
At the end of the year, we would like to express our deep gratitude for our collaboration with all editors, referees, and authors in 2021. Please take a look at our Christmas card. Since our virtual office is closed from 23 Dec to 2 Jan and a significant number of editors and referees pause their work over the Christmas days, we extended all journal review deadlines: deadlines expiring shortly before or over Christmas have been extended to the week after and deadlines expiring after Christmas or over New Year have been extended to after New Year's Day. Season's greetings and a happy New Year. Please stay healthy.


30 Jun 2020
Update of journal metrics
The journal metrics were updated and the current numbers are available from the metrics box on the left-hand side.

Notice on current restrictions
To show our support for Ukraine and in accordance with current European sanctions, we have introduced a range of measures relevant to our open-access publications process.
All fees for papers from authors (first, corresponding, or contact authors) affiliated to Ukrainian institutions are automatically waived, regardless of if these papers are co-authored by scientists affiliated to Russian and/or Belarusian institutions. The only exception to the waiver for Ukrainian authors will be if the corresponding or contact authors are from a Russian and/or Belarusian institution, in that case the APCs are not waived.
Due to restrictions for authors from Russian and Belarusian institutions that are necessary to comply with European sanctions, we recommend any authors from institutions in these countries to contact us on editorial@copernicus.org for more information.